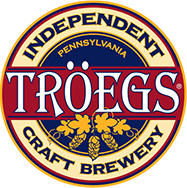 200 E. Hershey Park Drive
Hershey, PA 17033
Phone: (717) 534-1297
Fax: (717) 534-1344
Email: info@troegs.com
Website: www.troegs.com
General Store Hours:
Sunday: 12 – 5pm
Monday – Saturday: 11am – 8pm
Tasting Room Hours:
Sunday – Wednesday: 11am – 9pm
Thursday – Saturday: 11am – 10pm
Welcome to Tröegs Brewery! Our 5,000-sq. ft. Tasting Room is situated in the middle of our working production brewery and offers ample seating with views of our state-of-the-art, 100-barrel brew house. For a change in ambiance, our Tasting Room expands onto a covered patio. From the Tasting Room, visitors can explore the brewing process first-hand with a self-guided tour through fermentation, filtration, quality assurance, and packaging. We also offer private guided tasting tours that are limited to ten (10) people. Reservations are strongly encouraged, as spots fill up quickly.
Adjacent to our Tasting Room is our Snack Bar. As in the creation of our beers, our Tasting Room reflects our constant desire to explore, discover and share the way we do things. Our Snack Bar focuses on fresh, simple fare that is locally sourced and house-made. With that in mind, we feature a seasonally rotating menu.
Our General Store includes a variety of official Tröegs merchandise available for purchase. Peruse everything from apparel and glassware to tap handles, accessories and more. Visitors can also purchase our award-winning beer by the case, six-pack or single bottle and even customize a six-pack by mixing and matching their favorite Tröegs varieties.