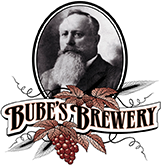 102 N. Market St.
Mount Joy, Pa. 17552
717-653-2056
office@bubesbrewery.com
www.bubesbrewery.com
In the 1870's a wave of young German brewers came to the United States to brew lager beer. Lager beer had been made in southern Germany for centuries, but at that time it was new to America. Hundreds of breweries opened across the country during this period built by Germans such as Friedrich Miller, Adolphus Busch, and Adolf Coors. Few remnants remain of this important time in brewing history, but in Mount Joy, Pa. a complete complex of buildings known as Bube's Brewery is the only intact 'lager era' brewery left in its original condition in the United States. Today, in addition to brewing carefully crafted lagers and ales under a brewing license renewed after an 84 year gap, Bube's Brewery provides a variety of other hospitality services. Built by a Bavarian brewer named AloisBube, the complex today includes: the Catacombs Restaurant in the original lagering cellars of the brewery, the Bottling Works Restaurant in the original bottling plant and machine room of the brewery, the Alois Restaurant featuring murder mystery dinners in the hotel portion of the complex which also served as the Bube family home, the Biergarten features outdoor dining in the old working yard of the brewery, the Brewery Gallery features the work of regional artists, the Brewery Ballroom hosts group events, and the Inn at Bube's Brewery features lodging in the original hotel building. Themed dinners called Feasts are featured in the Catacombs on most Sundays and select Fridays including Medieval Feasts, Pirate Feasts, Roman Feasts, Gypsy Feasts, Halloween Feasts, and Christmas Feasts– all meant to be a fun, lively evening in a most unique atmosphere. Call ahead for tickets to Bube's Feasts and Murder Mystery Dinners.
The Bottling Works pub features live music Thursday, Friday, and Saturday evenings and is open every evening until 2:00am as a nightspot.
Bube's Brewery is open 7 days a week, opening at 11:00 am every day but Sunday (12:00pm). A beer sampler is offered as a tasting any time we are open. The brewers try to be available most Saturday afternoons if you would like to learn about our beers and get a closer look at our compact little brewery. Tours of the historic brewery are offered for free every evening from 5:00 to 9:00pm by our Catacombs Restauranat host (diners in the Catacombs Restaurant get the tour on their way to their table in the underground lagering cellars). A more in depth tour is offered by the owner every Saturday at the conclusion of the Murder Mystery Dinner. And finally, Ghost Tours are offered every other Friday at 10pm for those interested in Bube's ghost stories (call ahead for dates and to reserve space on the tour).